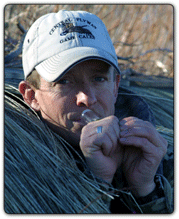 I would first like to introduce myself. My name is Tommy Stutzman owner of Central Flyway Game Calls. I was born and raised in Beaver Crossing, Nebraska a very small farming community. As a kid, my hunting (which I did a lot of) consisted of shooting pheasants in hedge rows and jump shooting duck on the pond.
Well, things change and thatís when I started to blow duck and goose calls. I had only blown a goose call for a few months before winning the Missouri State Goose Calling Title and from there it went crazy. I was fortunate enough to win the World Snow Goose Calling Championship and have had an opportunity to call with the best in the business. I have been creating custom calls for over 12 years now.
I try to use everything Iíve learned from being in the field and from other professionals in the industry to help make great sounding and affordable duck and goose calls.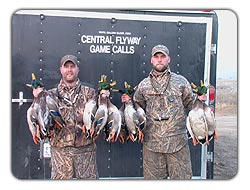 Thanks to all my friends and family for all their support and your support for helping make my dreams come true.
Hunting season begins the third Saturday in October through January 1st. Call us today to make your reservations. Contact Tommy Stutzman for your hunting needs:
Cell - 402-430-4570
E-mail – Tommy@callemClose.com